Are you tired of dealing with flashlights that regularly let you down? If you are, then you should check out the HyBeam flashlight by Joe Marshall this. This exceptional tool will help you get out of critical situations like being lost in the jungle in the middle of the night, with no other means of starting a fire. So, if you are a survivalist or a person who merely craves for perfection, here's a Hybeam tactical flashlight review to fill you in what makes this item special.
Getting to know the HyBeam flashlight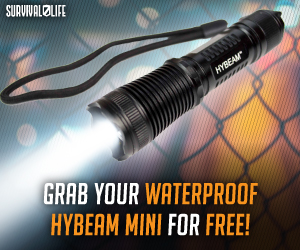 Joe Marshall is the brains behind this magnificent tool. Many people consider it to be the best tactical flashlight out there, with some even according it a military grade status. It is a properly crafted torch that can fit in your pocket or backpack and is highly convenient for daily use. This item will make you feel safer when navigating dark and unfamiliar territory allowing you to confront challenging situations.
Build quality
One of the striking features of this torch is how sleek and aesthetically appealing it is in comparison to other ordinary flashlights. It sports an aluminum finish which the manufacturer claims is aircraft grade, unlike the fragile plastic bodies we have become accustomed to in many torches.
It is important to note that the aluminum body on this tool is both shock resistant and waterproof meaning it can survive almost any environment. The torch is reasonably light too, clocking in at just under 12 ounces making it portable and ideal for everyday use.
The authentic CREE bulb
This tactical flashlight also delivers a generous light from its authentic CREE bulb. It is unique because rarely will you find a torch capable of matching the light output of the HyBeam. The elegant lamp can deliver an excess of 300 lumens which is more than you need.
If you don't fancy having a single lighting option, then this product offers you options. The device comes with three stage switch which varies the lighting from high, medium to low depending on the needs.
Solar charging feature
Another key selling point is the fact that this flashlight is solar powered. It even features an in-built stand which comes in handy when charging the item under the sun. Solar charging capabilities ensure that you no longer have to worry about replacing worn out batteries or search for a power socket to recharge your gadget.
If that is not enough, the torch features an easy to read meter that alerts you to how the batteries are charging. Once fully charged, the cell has a high endurance meaning you won't be charging it anytime soon.
The beveled edge doubles as a handy defense tool in case you find yourself in a life-threatening situation.
The pros
If the mesmerizing array of features don't blow you away already, how about getting your hands on a free ultimate survival skills books? The tactical survival tips in this book will help you overcome any rough situations where an ordinary human being would hardly survive.
It also boasts an easy step by step manual that allows users to enjoy the device as soon as possible. The manual is available in a simple language to ensure more people understand the set-up procedure.
It is the ultimate tool for emergency situations. The high-quality light beams from the bulb deliver sufficient illumination no matter the mode of choice. Its compact body allows it to fit nicely in your pockets meaning you can carry it anywhere you go.
A good battery performance means that you are unlikely to run out of power when you need it. The ability to support solar charging is a neat feature that works exceptionally well when you in the wilderness. This factor will save you the trouble of having to replace batteries now and then.
You will also benefit from the reliable customer support which ensures all questions are promptly addressed to improve your user experience.
However, the fact that this product is available for free is what attractive. Survival life, the providers of the device, only require you to meet the shipping costs which only works out to around $5, which is a steal for such a fantastic product.
The cons
The only notable shortcoming of the HyBeam flashlight is that it is only available online. You are not going to find in your local store.  Take a look here to see why you may want to buy a tactical flashlight and types of people that may use them.
Verdict
Summary
All the amazing features of this torch combine to make it a must-have survival tool. It is worth noting that this product is potentially lifesaving for you and your family. If you check any Hybeam tactical flashlight review on the Internet, you will realize how much people love this product. So, the next time you consider heading out for a camping expedition in a remote place, make sure you carry this great torch with you.