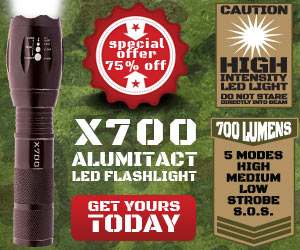 The X700 tactical flashlight is synonymous with high power and a low price tag. It has several light and focus modes from which to choose. Users can make the purchasing decision based on their specific requirements. Types of materials used to construct a flashlight play an important role when it comes to picking the ideal option. The X700 is durable thanks to the use of aircraft-grade aluminum to construct its frame.  This X700 tactical flashlight review aims to tell you everything you want to know.  Also look at the similar G700 tactical flashlight.
The durability allows users to rely on the flashlight even when venturing into harsh outdoor environments. In these settings, individuals cannot take a traditional key chain flashlight. Aircraft-grade material is well suited to harsh environments because it can withstand knocks. It comes in a lightweight housing that looks rugged. The unit is designed to be crash resistant and extremely robust.
The product's optical zoom lens, which is made of solid glass ensures that the focus is adjustable. The lens has different characteristics when compared to camera lenses. The unit's zoom feature has the capacity to reach 2,000 feet when the battery is fully charged. Its brightness can blind an onlooker within 300 feet. It is fitted with a larger LED chip that is significantly more powerful in comparison to traditional LED diodes.
Manufacturers improved the LED components of tactical flashlights while developing consignments for military applications.
X700 Modes
The X700 offers multiple focus modes, which can be activated by simply stretching and squeezing. Doing so adjust the beam's radius from narrow to wide focus. The modes include:
low flashlight mode
medium flashlight mode
high flashlight mode
When it comes to light modes, half pressing the green button can switch the light into one of three modes. These include SOS light, continuous light and strobe light.
The strobe mode allows users to activate frantic flashing while the SOS mode is designed to automatically engage the Morse code signal. This is aimed at signaling for SOS rescue.
Technically, the zoom feature can reach a range of up to 2,000 times by condensing the beam. The feature makes it easier to focus the tactical flashlight on a specific spot. In addition, it is designed to provide a solid spotlight function, which is ideal for searching in dark situations.
Flashlight Battery power
The product includes three AAA batteries (4.2 volts) and two chargers. The battery can be charged in less than 60 minutes and users can operate the flashlight for several days before the next charge. Many grocery stores and other retail outlets sell the AAA batteries.
Advantages of the X700 Tactical Flashlight
This flashlight is a good choice for anyone looking for a durable and powerful unit that provides practicality. Its price is lower than many other products with the same or better features. It can handle extreme survival and tactical situations. From hunting activities and camping to hiking, users can rely on the X700 for light. Individuals can use the product in varying desperate situations for many years. It also provides flexibility, which can be a key factor in survival situations.

Using the X700
This tactical flashlight is easy to use thanks to its simplified design aimed at ensuring convenience and flexibility. Turning the unit on or off is a breeze with a simple switch located at the bottom end of the flashlight. The powerful blinking strobe and focused beam light functions can be activated by simply twisting one end of the flashlight. It is best to practice using the strobe mode on an appropriately sized object. Doing so ensures that it becomes easier to use the flashlight in this mode in real life situations.
Fortunately, pointing a flashlight to blind a threat or an attacker is not too complicated, but doing it instinctively can make a difference between success and failure. In most cases, the response time is critical when faced with a critical situation. If threatened by a wild animal like a mountain lion, reaction time and precision pointing can determine the outcome. The X700 is geared to provide maximum power and light.
However, using the SOS mode does not require much practice because it is less complicated. Users simply need to decide the right direction to point the light. When attempting to signal a watercraft, it is best to cast the light over water.
X700 Tactical Flashlight Review – Final thoughts
The tactical flashlight can stun an assailant or other threat with immense focus power, which is something that ordinary variants cannot perform. For this reason, it is best to pack the X700 when embarking on camping or other trips into potentially dangerous areas.
More fun reading:
Summary
This tactical flashlight eliminates the need to rely on non-efficient regular models that can fail when it matters the most. The X700 is user-friendly, efficient and reliable thanks to the inclusion of powerful batteries. It comes as no surprise that the flashlight attracts positive reviews from satisfied buyers. Some users have found the device practical in the event of a burglary because it can blind the intruder.